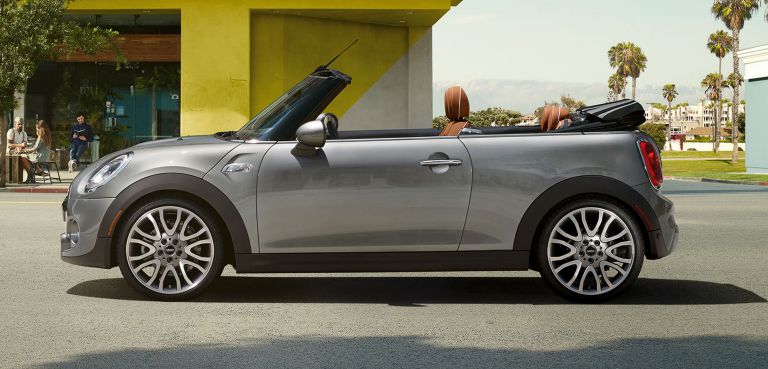 If Nevada drivers know one thing, it's this: the MINI Convertible provides some of the best specs currently on the market, from stellar performance and safety specs to some of the most exciting design features around. But did you know that the MINI is especially strong when it comes to technologies? Read on for all the exciting details, and then be sure to stop by our MINI of Reno dealership yourself in order to see for yourself what makes this year's MINI Convertible so very special!
The MINI Convertible's Technologies
Here's a sampling of the technologies you can expect on your new MINI Convertible.
MINI Connected - The MINI comes with an embedded 6.5-inch touchscreen that allows you to run a slew of its programs using nothing more than the swipe of a finger, putting this car's spectrum of entertainment, connectivity, and information technologies within easy reach.

Streaming Internet Radio - What's more, the MINI Convertible gives you a host fo streaming internet radio options, from Spotify to Pandora, ensuring that you'll have easy access to all the music, news, sports, talk radio, and entertainment that you could wish for.

Rain Warner - Part of the Journey Mate trip planning app that has been created by MINI, the Rain Warner is able to let you know via your smartphone when you should expect inclement weather. Moreover, it can also warn you when you've left your roof down.

LED Headlights - Equipped with auto-leveling headlight system, the MINI can adjust your headlamps' angle based on what it discovers about the terrain types and your turning angle, making sure that you have headlights that are not only beautiful but also beautiful as well.

Optional Touch Controller with Handwriting Recognition - With its Touch Controller with Handwriting Recognition, the MINI can predict your commands based on just a few characters, simplifying the process of directing your MINI.
Test Drive the MINI Convertible Today!
Best of all, you don't even have to take our word on this. Instead, feel free to swing by our MINI of Reno dealership today, and we'll let you take one of our MINI convertibles out on the road yourself. Feel free to get in touch with us via this simple online form, and we'll get back to you ASAP. Also don't forget to explore our financing options. We look forward to making your acquaintance soon at MINI of Reno!