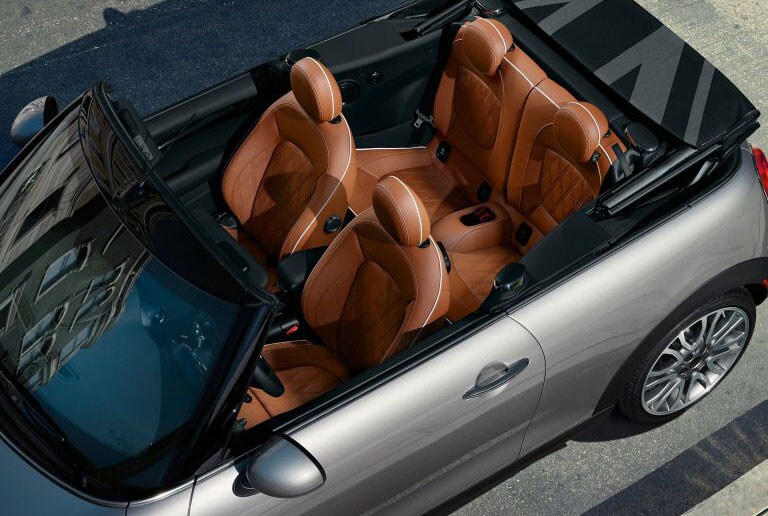 Nevada drivers take note: the new 2017 MINI Convertible provides some of the very best in specs, whether we're talking about its stellar engine power, its wide range of safety devices, its sophisticated technologies, or its array of exterior perks. But did you know that the new MINI Convertible also gives you some of the best in interior design as well, boasting an amply spacious cabin, impressive interior luxury, and a splendidly functional roof? Check out the details by reading on, and then be sure to swing on by our MINI of Reno dealership in order to see for yourself what sets this new MINI apart from the crowd!
The MINI Convertible's Interior Features
Here's a sampling of the interior features that make the new MINI Convertible a joy to drive:
3-in-1 roof - Usually, convertibles feature a roof with only one of two modes: open or closed. However, the MINI Convertible also gives you a half-open setting that allows you to keep the roof half-way open if you want, somewhat like a panoramic sunroof.

Spacious Cabin - Look forward to an immensity of cargo space inside, with 5.7 cubic feet of volume when the roof is down and 7.6 cubic feet when it's up. What this means is that you'll get 25% more cargo space than you have in previous models.

Premium Cabin - Choose from a range of high-end upholstery options, from Malt Brown Chesterfield leather and diamond pattern stitching to a spectrum of other colors and designs.

Limitless Customization - Though it may seem hard to believes, the MINI is so customizable that you'll be able to produce a grand total of 10 million unique combinations.

Race-Inspired Toggle Switches - Finally, the MINI also features race-inspired toggle switches that give you an array of satisfying controls.
Test Drive the MINI Convertible Today!
One last thing - in order to experience the new MINI's lavishly appointed and comfortably spacious interior for yourself, all you need do is swing by our MINI of Reno dealership, where you'll be able to explore this new car in person. Get in touch with us via this easy-to-use online form, and we'll get back to you as soon as we can, but also be sure to check out your financing options, too. When it comes to getting the best in interior features, don't mess around. Explore the new MINI Convertible today-you won't be disappointed!